HydraFacial
Abrasion-free liquid rejuvenation at the Whole Beauty® Institute in Chicago and Winnetka.
Why Choose The Whole Beauty® Institute For All Your Non-Surgical & Medical Aesthetic Needs.
Because of our roots in plastic surgery, we understand the continuum of surgical and medical aesthetics treatments and how the two can complement one another for optimal results. This allows us to offer a full range of treatment options for our patients.
Dr. Cook has a deep understanding of aesthetic treatments since he has studied them diligently and followed their development for over 25 years. While everyone on his clinical team adheres to our practice philosophy of naturalism.
We offer our treatments in a premium, unrushed caring environment that respects your privacy. This is why so many of our patients have been coming to us for 10 or even 20 years or more.
Our highly experienced team offers a full spectrum of aesthetic treatments that include the most advanced technology available.
Education and Credentials

REAL PATIENT RESULTS
See the difference experience makes. Scroll through before and afters in the photo carousel of HydraFacial patients treated by Dr. Cook and his team.
HydraFacial
Nourish, Hydrate, and Brighten Your Skin with a Four-Part Treatment in Chicago and Winnetka
Like many of our patients, you are looking for a way to freshen your skin, but your busy schedule doesn't allow for the recovery time most laser procedures require. A HydraFacial at our Chicago-area offices, administered by our skilled aesthetics team, offers an ideal solution to a number of skin problems with no discomfort or downtime.
You can think of HydraFacial as the next generation of microdermabrasion, but it really is much more. Unlike treatments that simply buff down the skin's surface, HydraFacial cleanses pores, evens out skin pigment, and improves skin tone. The result is radiant, fresher, and healthier skin. HydraFacial is also much more than a facial such as you might find in a medispa. Facials, although pleasant, have a limited effect on skin health.

What Can HydraFacial Treat?
HydraFacial addresses a number of common skin problems, including fine lines and wrinkles, loss of skin elasticity, diminished skin tone, rough skin texture, uneven skin pigmentation, enlarged pores, oily or congested skin, and an aged appearance.
Despite the name, it is possible for a HydraFacial to rejuvenate your skin in areas other than the face. Our team can use it to refresh the appearance of the arms, legs, and other body areas.
How Do I Prepare for a HydraFacial?
Preparation for the Whole Beauty® Institute's HydraFacial is easy! Simply avoid the use of glycolic or retinoid creams for a few days before your treatment. You will need to remove all cosmetics from your face prior to your session, which can be done in our Chicago and Winnetka centers. Since we apply rejuvenating serums during your treatment, you should not wash your face for the rest of the day after your HydraFacial.
How Easy is a HydraFacial Session?
When Dr. John Q. Cook underwent a microdermabrasion treatment, he described the experience as "mildly annoying." That is not the case with HydraFacial. Because the treatment is liquid-based, the exfoliation process is gentle, but effective. When you arrive at our office for your treatment, we will help you remove your makeup and clean your skin. At the end of your session, your aesthetician will apply sunblock. You can then resume normal activity
There are four steps to the treatment. The first step is a gentle liquid exfoliation. Next, the skin is cleansed with a gentle lactic acid solution and a non-irritating glycolic/salicylic chemical peel. The third step is a cleansing of the pores with a patented vacuum extraction process. The treatment ends with a customized selection of ingredients to enhance your skin. In addition to the basic steps, we often treat you with red or blue LED light therapy for rejuvenation and to reduce harmful bacteria. The treatment may also include manual lymphatic drainage.
The number of treatments needed depends on the condition of your skin and your goals. For optimum effects, many of our patients come in for treatment once a month. For patients who are treating acne, it is possible to come in every two weeks.
If your skin is very oily and clogged or if you have very damaged skin, your best choice is a series of three treatments one week apart, followed by monthly maintenance.
HydraFacial Can Open the Door to Comprehensive Rejuvenation
HydraFacial is just one part of our extensive portfolio of carefully vetted products and treatments at the Whole Beauty® Institute. Although great as a standalone treatment, HydraFacial can often be combined with medical-grade products and other treatments that will power your results to an even higher level.
The Whole Beauty® Institute is a Chicago-area leader in advanced non-surgical and surgical aesthetics. Patients who come to us for HydraFacial treatments are welcome to participate in our comprehensive facial evaluation. Our high-level team can analyze the four key variables of facial aging and provide a map for skin rejuvenation that fits your needs.
Our skilled aesthetics team has many years of experience working with Dr. John Q. Cook at the Whole Beauty® Institute. We offer a comprehensive approach to rejuvenation and deliver high-level results in all the treatments we perform. As the founder and owner of the Whole Beauty® Institute, Dr. John Q. Cook, a board-certified plastic surgeon, offers a deep-knowledge approach to all medical aesthetics treatments. He reviews the treatment records of every patient who comes to us. We are firmly committed to an individualized and naturalistic approach to medical and surgical aesthetics.
Are You Really Too Busy to Treat Yourself to Fresher Skin?
We understand your challenge. Many busy, successful people fall into a trap. They know they should change their habits of diet and exercise for their long-term well-being, but they can never seem to find the time. But once they make the commitment to make these healthy habits a priority, they find they have an energy dividend that enables them to accomplish more in less time.
Good skin health follows a similar pattern. If you take the time to improve the quality of your skin with HydraFacial and more, you can set up a positive feedback cycle. When you look in the mirror at the start of the day and your skin looks great, you will feel better about yourself, and the positive energy you experience will carry over to your day's activities.

Hydrafacial is available at the Whole Beauty® Institute in both our Chicago and North Shore Winnetka locations. It is a popular treatment because it's an easy way for busy people to freshen their skin with no downtime. Here are the most common questions that our...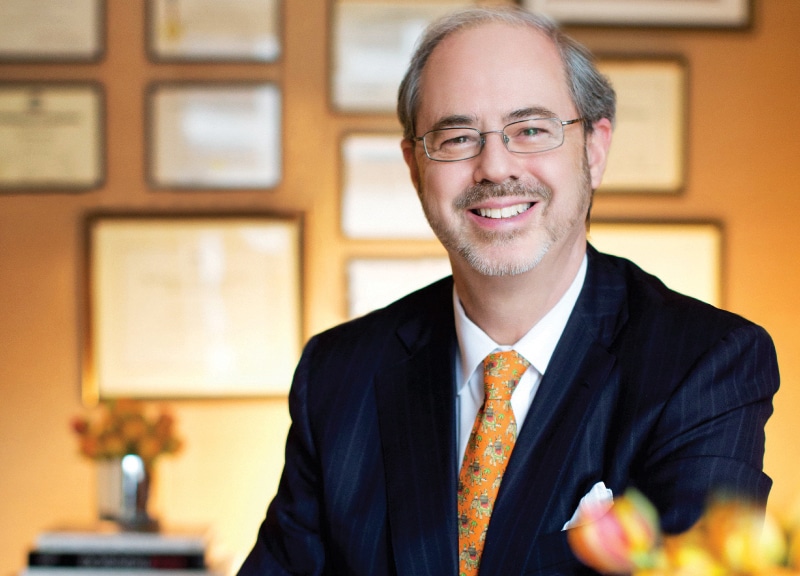 Learn more about Dr. John Q. Cook and the non-surgical treatments and plastic surgery procedures available at The Whole Beauty® Institute. Get tips and advice, discover new ways to improve your health and beauty, and more.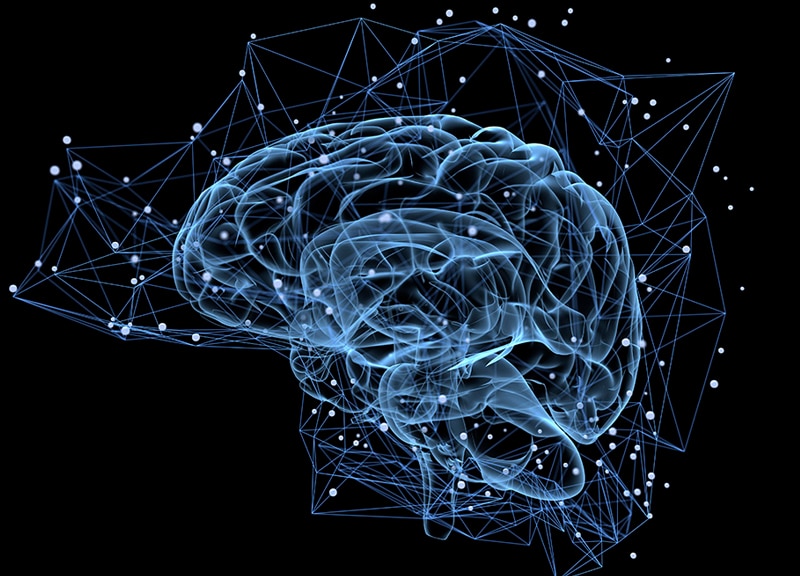 Dr. John Q. Cook shares his personal thoughts on well-being, quality of life, and more—all drawn from his decades of experience in the industry, studying and working with advanced technology and techniques.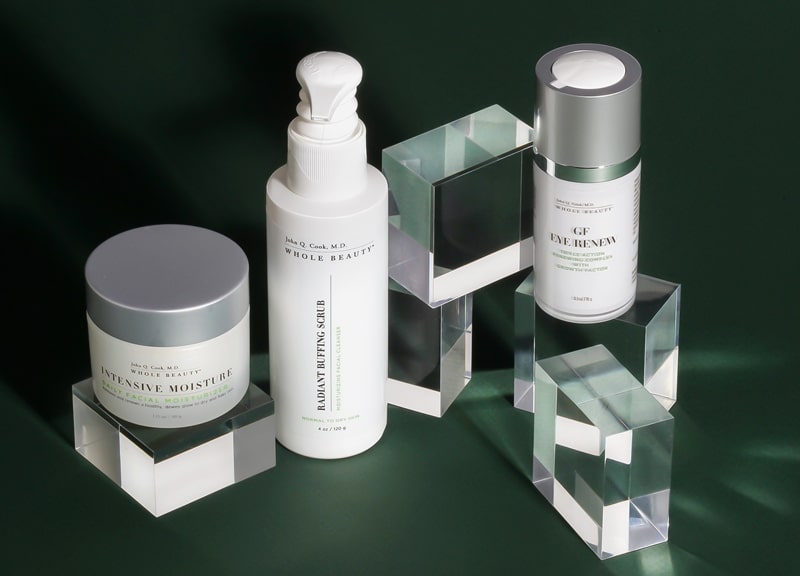 SkinShopMD was created by Chicago Plastic Surgeon Dr. John Q. Cook as a trusted source for skin health products and information. From his years of experience, he developed a portfolio of high-quality medical grade products to protect and rejuvenate your skin.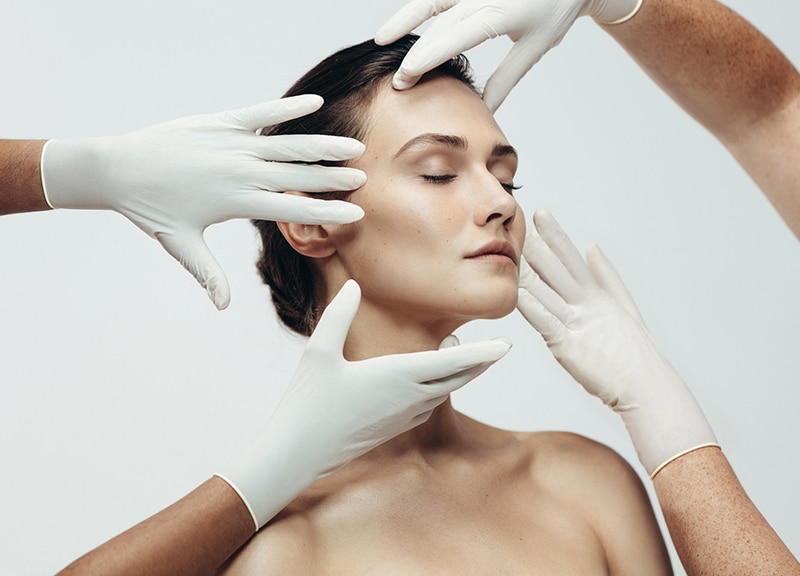 Education
Learn important information about surgical and non-surgical procedures to help you make informed decisions about your desired treatment based on your goals. Topics cover facial surgery, injectables, lasers, breast surgery, body contouring, and other treatments.
Testimonial and Practice Videos
Visit our Video Gallery to View More
Schedule a Consultation
Schedule a consultation with board-certified plastic surgeon, John Q. Cook, M.D., to learn more about plastic surgery solutions that may be right for you based on your aesthetic goals.
"*" indicates required fields
Our Office Locations
Our locations in the Gold Coast of Chicago and Winnetka in the North Shore reflect our commitment to convenient and discrete concierge-level service.
737 North Michigan Ave., Suite 760 Chicago IL 60611 (312) 751-2112 Entrance at 151 E. Chicago Avenue
118 Green Bay Road Winnetka IL 60093  (847) 446-7562
Located directly across from Indian Hill Metra Station